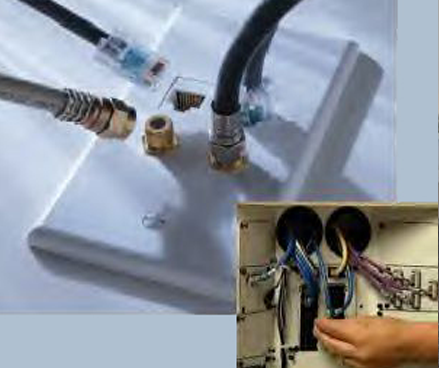 Wire is cheap. Opening walls is expensive. Install ten times the amount of wire that you will use at one time. This provides the capacity and flexibility for the future needs of your home. If you buy into that concept, then structured wiring makes sense for you.



Structured wiring is a method of providing the communications infrastructure for your home in a well-organized, easy to understand and thorough way. It provides a general solution to your present and future needs.

Some people run a coax here, and a Cat 5 there, trying to guess their future needs. The structured approach is to run a full bundle of wire to every significant room. The full structured bundle consists of two 4-pair Cat 5 cables and two coax cables (usually quad shield RG-6), and optionally, two multi-mode optical fibers. This is the configuration that has become the overwhelmingly preferred standard.

Two coax cables provide a downstream and upstream signal path. Cable channels, satellite signals, closed circuit channels all go down through a single coax cable. A separate upstream cable carries all closed circuit channels, ---baby crib camera, VCR feeds, etc, --- to a video hub to feed any TV.

The two Cat-5, 4-pair telecommunication cables provide four phone lines and a separate full capability computer network backbone for your home. Cat 5 wire will support 100BaseT Ethernet networks, which are the standard for office and home multi-computer networks. It also provides the link for high speed ISDN, DSL, and cable modem connections to the Internet.

Structured cabling systems provide the extra capacity and flexibility for your home in the future. Panel organization and appearance make it easy for the homeowner to understand and maintain the system.

When your student leaves for college, the bedroom can become an office quickly and easily. We call it The Five Year Test. Someone should be able to look at the panel five years from now, understand it and work with it. That's the beauty of the FutureSmart system.

The Structure Panel is organized for visual simplicity. The top section consists of rows of color-coded connectors. Each row connects to the cable going to a single room. The rows are called zones. There is nothing between the connectors on the panel and the connectors in the room except wire. Nothing is hidden so there is no confusion. Below the zones is a row called a service input hub. That's where the line coming into the house are located - phone, TV, cable, satellite - for easy connections to the rooms with a simple patch cords.

R & M carries a full range of residential wiring options - from a simple single surface mounted panel to a full-featured system.